On the second day of the 2018 edition of the World Innovation Summit for Health (WISH), an initiative of Qatar Foundation, 23-time Olympic gold medalist Michael Phelps delivered a keynote speech to over 2,000 delegates that focused on his personal struggle with anxiety and depression.
"When depression hits, it can be debilitating," Phelps revealed. "Sometimes, my greatest accomplishment has been getting out of bed. Compared to that, winning a gold medal was easy. At times, my depression would overpower me, but, in the end, I realized that it was necessary to seek professional help and talk about my illness, in order to recover.
"It's an honor to stand here today and have the chance to thank the healthcare community. I'm grateful for the opportunity to play my part in opening up the conversation about anxiety and depression, and removing the stigma associated with this area of mental health."
In addition to his keynote address, Phelps spoke in detail of the personal challenges that he faced with anxiety and depression, in an in-depth question and answer session with BBC news presenter Mishal Husain. He strongly urged those suffering from mental health issues to seek help from family, friends, and healthcare professionals.
Following Phelps' talk, a WISH panel discussion on 'Anxiety and Depression' took place, chaired by Paul Farmer, Chief Executive of Mind, the leading mental health charity in England and Wales. The forum discussed the current global burden of people living with anxiety and depression, risk factors of developing the illnesses, and the treatment gap. According to the World Health Organization, only one in 27 people receive adequate care for anxiety or depression in some low and middle-income countries.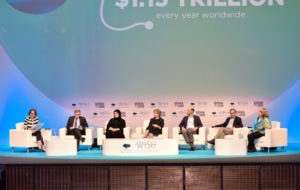 "Anxiety and depression are the most common mental health problems globally," said Farmer. "In 2017, 322 million people had depression and 264 million lived with anxiety. The high prevalence and far-reaching impact of these illnesses encourages us to seek solutions. We need to work together to find ways to discuss how society and other sectors such as education and employment can play a part in taking action to prevent anxiety and depression."
Panelists also discussed how, despite differences in culture and healthcare systems, effective interventions can be translated, accepted, and adapted to various settings.
WISH 2018 placed special focus on the topic of mental health. Over the two days of the summit, a real-time painting entitled 'Father and Son' was created by Colombian artist Dairo Vargas, depicting Qatar's commitment to creating support networks for people suffering from mental illness. Elsewhere, delegates were able to sit on 'The Friendship Bench,' brought to Qatar for WISH 2018. The project was developed in Zimbabwe, where friendship benches represent a safe place for those struggling with anxiety and depression to receive problem-solving therapy from trained health workers.
Dr. Dixon Chibanda, Founder, The Friendship Bench, said: "I am delighted the Friendship Bench is being featured at WISH. There is a universal need to scale up simple and affordable community-based mental health solutions. By spreading the word about the Friendship Bench, we hope more communities will either adopt our approach or find their own way to ensure everyone has someone to turn to."